About Us
Founded in 1984, SHIH LUN has always been a pioneer in providing innovative BEAUTY BOX printing technologies. Headquartered in Taipei, it is now the professional packaging converter in Taiwan and China.
SHIH LUN Limited provides sophisticated, one-stop-shop supply chain solutions to meet customer's specific needs. From folding boxes design, raw material sourcing and production management to quality control, logistics, shipping, its spectrum of service covers the entire end-to-end supply chain.
Over the years, SHIH LUN Limited has won premium folding boxes which are meet all of customer standards and specifications. As you work with our team to make the projects you imagine a reality. Sustainability considerations are embedded into any of your printing and packaging needs.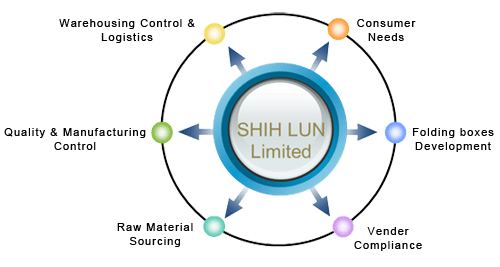 Business Overview
SHIH LUN Limited originally focused on the folding boxes business. With nearly 27 years of continuous development, SHIH LUN is committed to achieving the highest standards of service and meeting the needs of international business through competitive pricing, quality and reliable delivery.
By market knowledge and advanced technology, we have been tried to help our customers from the concept to the final, to present the excellent of the beauty, attractive and communicative packaging by the creative and unusual ideas. Help the products to speak for themselves. SHIH LUN has the capacity and flexibility to respond rapidly to evolving consumer trends.
We are convinced that only by delivering consistent quality, can our customers be worry-free in day to day operations. The Company's products including eight line for cosmetic industry.